Registered Psychotherapist, CRPO, Diploma TIRP
My Therapuetic Goals:
It is the normal human experiences of struggle and suffering that brings people to a psychotherapy process. You may feel that something in your life is not making sense or is not working. Whether that be a relationship, your reactions to life events that are not measured, an old experience of trauma that has been triggered in the present, or other challenging or negative experiences; it is all okay. Whatever it is that brings you in, I maintain that there is nothing "wrong" with you, that there is just something wrong for you. This perspective can seem completely foreign at first, however, it is the process of therapy that can shift the feeling of being "wrong" to an intuitive, felt sense that you are just right.
 To understand where you got lost and to address these issues, we will actively co-create new meanings that can allow for a wider range of engagement in life, deeper levels of knowing the self to allow for greater authenticity and freedom. We do this by counting on the co-created therapeutic relationship to provide you with a core experience of a genuine connection within yourself. When we can be in authentic connection with a therapist and with our internal world, we know we belong, we experience our sense of humanity, dignity and develop a deep sense of our "rightness". It is in relationships that we develop our core concept of ourselves and it is in healthy relationships that we change.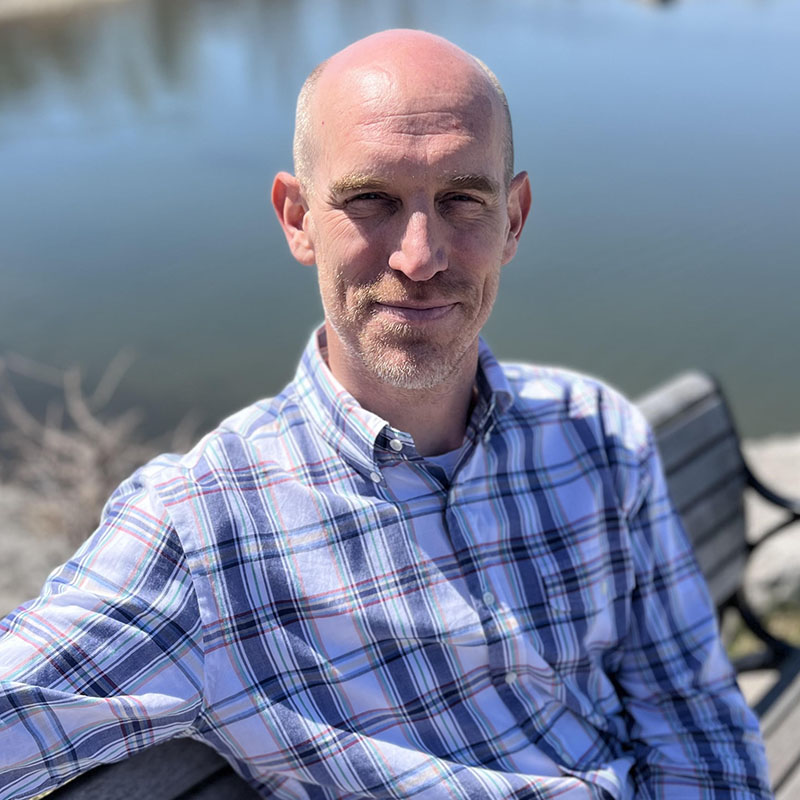 Collingwood Psychotherapy & Yoga Center
My Path So Far:
I came to be a Psychotherapist in a circuitous way.  In my 20s I travelled extensively in Europe and Canada until I returned to Toronto. I went to film school at the Trebas Institute, and worked as a Grip in the film industry. I studied improv at the Second City in Toronto, the Bad Dog Theatre and the Impatient theatre Company as well as doing a one month residency studying Improv in Chicago at the iO theatre. Though I loved improv, acting and film, for 20 years, I worked full time as a carpenter (it paid the bills!) . 
In 2011, with a 2 year old at home and another child on the way, I suffered a back injury at work and had to take a significant amount of time off to await surgery and manage my pain. I had a lot of time to reflect on the path I was on and to recognize that I wanted to change the direction of my life and career to better reflect my evolving self. As I thought about retraining, I realized that what I loved most about Improv was the way that relationship was explored in the scene and how possibilities could be co-created with other actors to end up with outcomes I never could have predicted on my own. Improv was always my own way to work through my inner struggles. The more I learned about Relational Psychotherapy, the more I started to see the parallels between therapy and Improv. I was inspired to work with people who wanted to explore themselves at deeper levels and the path of Psychotherapy felt like a good next step. 
My 4 years training at the Toronto Institute for Relational Psychotherapy (TIRP) was a perfect fit for me, providing deep theoretical as well as experiential opportunities to develop my self and my career. This development continues as I seek to engage in seminars with experts who are moving the field of psychotherapy in fascinating directions, to develop ways to incorporate my love of improv with psychotherapeutic theories,  and to continue to deepen my skill in the art of psychotherapy by engaging in regular clinical supervision and ongoing theoretical as well as experiential study. 
Since 2013, I have run a private psychotherapy practice first in Toronto and since 2015, in Collingwood. I also worked part time at the Pine River Institute where I was a Residential Youth Counsellor for youth 13 to 19 struggling concurrently with addictive behaviours and mental health issues. In addition, I worked as a Patient and Family Support Worker at Hospice Georgian Triangle providing group therapy sessions and individual support to patients during their end of life journeys. 
When I'm not working as a therapist, I teach improv, act on an improv team and bring award winning improvisors from Toronto to perform in Creemore and Collingwood. I am also deeply engaged in cross fit, yoga and living an active, adventurous life. 
I love providing individual, couples and family Psychotherapy to clients as they bravely strive to change and deepen their connection to themselves and to the people they love.  
The Process of Psychotherapy:
In psychotherapy, there is nothing that you are not allowed to talk about. This uncensored expression is one aspect of what creates opportunities for powerful learning and change. As we develop a trusting therapeutic relationship, we broaden the space for self-reflection and growth. As your ability to know and accept yourself – even the parts of you that you don't like – expands, your sense of self grows more resilient and stronger. Your life circumstances may not change, but the ways that you relate to them do. This can make all the difference. 
Getting beyond the shame of "I am wrong" requires vulnerability, acceptance and self-compassion. It can be a complex process and difficult to do it on your own. I have worked with many people to help them understand the complexities of the intersections between their life events, their relationships, their emotions and expressions of self. I enjoy being an ally to my clients, walking with them as they discover that they are so much more than their struggle; the unfolding of their expression of authenticity is a great joy to witness. 
Therapeutic Theories I Work With:
There are hundreds of perspectives from which to explore the self. Here are the theoretical orientations that I have been trained in and that have been most interesting and powerful for me and my clients so far:
Relational Psychotherapy
Trauma Informed Stabilization Treatment
Comprehensive Resource Model
Neurobiologically informed psychotherapy
Intersubjectivity Theory
Self-Psychology
Comprehensive Resource Model
Feminist Relational Psychotherapy
Humanistic Psychotherapy
Dyadic Developmental Psychotherapy (aka Attachment-Focused Family Therapy)
Satir Family Therapy
Emotionally Focused Couples Therapy
Developmental Psychotherapy
Attachment Theory
Anti-Oppressive Theories in therapy
Relevant Education:
Diploma: Toronto Institute for Relational Psychotherapy – 2010-2014
Comprehensive Resource Model – Heal the Healer Intensive – 7 days – Lisa Schwartz – 2022
30 hour Relational Psychotherapy Clinical Supervision Course with Judy Gould – 2021
Comprehensive Resource Model Basic 5 day training – Lisa Schwartz – 2021.
Working with couples who have a history of trauma with Dr. Janina Fisher and Terry Real  – 2020
Complex Trauma Revisited: A revolving model of Emotional, Cognitive, and Relational processing, John Briere, PhD. 2019
Emotionally Focused Couples Therapy, Dr Sue Johnson – 2017
5 day Satir Family Therapy Training with Dr. Maria Gomori – 2017
7 day Journey to Self with Dr. Maria Gomori -The Haven Gabriola Island BC – 2016
Level 1 Attachment Focused Family Therapy, Dr. Sian Phillips – 2015
Grief and Bereavement Therapy, Andrea Warnick- 2015
Understanding Shame: A Neurobiological Approach. Dr. Pat DeYoung- 2014
To provide clients with an accepting, friendly space to discover their healing path and to develop therapeutic relationships that sustain, inspire and guide them.
To provide clients with highly skilled, self responsible and self aware psychotherapists and yoga therapists who are always striving to learn about advancements in their fields and to continually develop themselves.
To create psychoeducational opportunities for clients to empower them to learn about their symptoms and how they can move towards healing and growth.
To provide innovative training programs that develop highly competent, self aware, self responsible, and inspiring psychotherapists and yoga therapists.