"If you do not change direction, you may end up where you are heading" Lao Tzu
 Teenagers and young adults have so much potential but they can be vulnerable and get lost easily at this time in their lives. Often therapy can be a welcome place for them to talk freely and to be joined by a caring adult to receive support in the confusing work of growing up. As much as they do not want to admit it, and often work hard to reject it, they also need their parent's support.
 Parents are often left out of their adolescent's therapy treatment; they are left in the dark just at the time that they are most concerned about their child's wellbeing and are desperate for answers about how to help. We believe that parents are too important to leave out of their teen's process so we promote a parallel process where teenagers and parents work simultaneously in their own therapy at first and possibly come together in therapy when there is more understanding of how to engage usefully in the relationship.
We also offer a group for teen parents that is educational, therapeutic, experiential and challenges participants to grow.
Parents are the engines of the family and their growth and development is a central part of the therapeutic process that will bring about change in their teen's life.
If the teenager is not ready or willing to engage in therapy, we will work with the parents only; we have seen the strong positive influence healthy, supported and educated parents can have on their teenager's mental health even when the teenager is not in therapy themselves.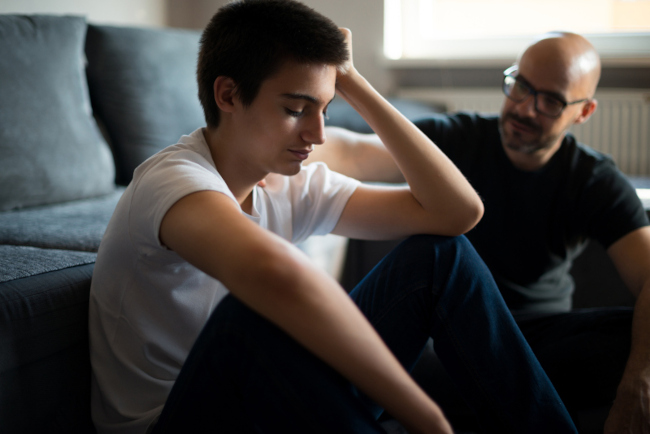 Often, we incorporate family therapy into the process when everyone is ready, since every member of the family, including siblings, are often deeply impacted by the behaviours the struggling person has exhibited in the family and it can be very healing for everyone to reestablish care and trust within the family system.
Collingwood Psychotherapy & Yoga Center
Which Teenagers do we work with?
We work with teenagers and young adults struggling to grow up and willing to do the hard emotional work it requires. These teenagers voluntarily agree to engage in regular therapy and their parents also agree to attend therapy regularly.
We do not work with teenagers who are forced to come to therapy by the courts or by parents – for these teenagers who are not ready to grow, we work with their parents only and the teenagers are welcome to engage in therapy at any time.
These teens struggle with:
Poor peer and family relationships
Trouble going to school or succeeding in school
Having realistic future plans or feel hopeless about the future
Feeling bad about who they are
Feeling angry, stressed, nervous, numb, lonely, isolated, anxious or sad
Leaving their home during the day to fulfill responsibilities or social activities
Hurting themselves or others with self-harm, suicidal thoughts, excessive drug/alcohol use or dangerous behaviour
Seeing things in black and white terms and struggling to understand the grey areas in relationships.
Have accessed hospital interventions, psychiatrists and therapists and nothing seems to work.
Goals for Teens in Therapy:
Feel better about yourself and more comfortable in social situations
More respectful, easy, supportive relationships with your friends, parents and siblings
Understand your family dynamics and how they play a role in your mental health
Be more successful in school
Feel like you have a voice with your friends, your teachers, your parents and siblings
Discover what makes you happy
Learn why you feel so nervous, anxious or depressed and what you can do about it
Learn to say no to people who are trying to get you to say yes to something you don't want to do
Learn how to have dating relationships that feel good and supportive instead of confusing, constricting and dramatic
Figure out how adults can help you instead of always seeing them as the enemy who will get you in "trouble"
Understand addictions and figure out if you are headed for one or not
Learn about healthy relationships and sexuality
Figure out how to be a supportive friend or boyfriend/girlfriend/partner
Understand why it is you keep getting in trouble with the law – decide if this is the path you want to take
Which Parents do we work with?
Parents who have felt shut out of their child's psychological interventions by professionals and want to be an integral part of a transparent healing process of the teen and family.
Parents who are frustrated with their teenager's inability to function, scared about their teen's and family's future, hopeless about the medical and educational system's ability to help them,
Parents who are ready to commit to their own therapy, understand their own histories and how this is impacting their families.
Parents who recognize that this process will not be quick, but will require sustained effort, will involve setbacks and will require of them resilience and commitment. Parents are the engines of the family and their growth and development is a central part of the therapeutic process that will bring about change in their teen's life.
They recognize that they will have to look at themselves through their teen's eyes and they may not always like what they see.
They have the courage to see themselves more accurately and to have compassion for themselves and their own histories, then to extend this compassion to their partner, their children, their family of origin and their community.
Parents who no longer want to be isolated because of their teen's behaviour
Goals for Parents in Therapy:
Become more confident handling conflict and learn to help their child through attuned limit-setting and successfully navigating the rupture/repair cycle
Discover how their own childhood development impacts their parenting today
Recognize that they have a huge part to play in helping their teen feel better
Reignite their own vitality – get a life again
Feel better in their relationship with their partner or the other parent – start to work together rather than be split by the teenager's behaviour
Improve communication within the family
Heal from past traumas and live a more calm, confident and grounded life
Discover effective communication styles that allow you to be truly yourself and to parent from a place of responding rather than reacting.
Recognize and reclaim your strengths and resources
A peaceful home (most of the time!)
To provide clients with an accepting, friendly space to discover their healing path and to develop therapeutic relationships that sustain, inspire and guide them.
To provide clients with highly skilled, self responsible and self aware psychotherapists and yoga therapists who are always striving to learn about advancements in their fields and to continually develop themselves.
To create psychoeducational opportunities for clients to empower them to learn about their symptoms and how they can move towards healing and growth.
To provide innovative training programs that develop highly competent, self aware, self responsible, and inspiring psychotherapists and yoga therapists.